14 Easy Ways To Spend More Time Outdoors
14 Easy Ways to Spend More Time Outdoors
Life seem too busy? Feel stuck inside all the time? Here are some simple ways to get outside more

BY DAVID YOUNG
Life is busy these days. There are lots of things vying for our attention: work, school, kids, errands, smartphones, televisions, digital distractions. In today's fast-paced world, spending time outside can fall by the wayside, especially if you live in a major metropolitan area. You may see the sunshine out there, smiling down on you as you sit in your little cubicle, but spending time in it may seem like a dream.
The good news is, you don't need to spend hours climbing mountains or trekking through nature reserves to reap the benefits of being outside. In fact,
studies show
studies show that spending just five minutes outdoors can improve your morale. And there are tons of other health benefits of being outside too, including reduced anxiety, better sleep, increased vitamin D, weight loss, and improved focus. Some therapists even prescribe time outdoors as part of their treatment plans, a practice known as ecotherapy.
With a little focus and the
right gear,
you can make the outdoors part of your daily life. So lace up your
shoes,
grab your sunglasses, and get ready to spend more time enjoying the great outdoors.
1. Walk or ride your bike to work – One easy way to spend more time outdoors is to incorporate daily activities like your commute into nature. So rather than hopping in the car and driving to work, why not trade four wheels for two and cycle to the office? Or if you work close enough, try walking. Even just a couple of days a week will let you reap the benefits of being outside.

2. Replace the gym – With the pandemic, nature has become the new gym for a lot of people. So why not join them and skip the hot, overcrowded fitness club? There are plenty of exercises you can do outside, including running, walking, cycling, and stair climbing. Even if you still go to the gym a few days a week, substituting part of your fitness routine with outdoor cardio will make all the difference. From basketball to soccer, tennis to pickleball, the ways to exercise outdoors are endless.

3. Park far away– Another simple way to get outside every day is to park farther away than you normally do. Instead of wasting time (and fuel) as you circle for the best spot, park a few blocks away and enjoy a nice stroll to your destination. You can do this anywhere you park, whether it's at work, school, the grocery store, or a friend's house. Practice this wherever you go and over time it will add up.

4. Shop at farmers markets – The next time you need some fresh fruit or produce, skip the grocery store and buy as much of your food as you can at local farmers markets. Check your area's schedule to see where they are and hit several a week if you can. Not only will this help you get outside more, you'll eat better too.
5. Sleep in the backyard
– Throw a sleeping bag down on the ground or pitch a tent in the backyard and watch the sunset. This is especially fun for kids. Don't have a backyard? Hang a hammock on your patio, porch, or balcony and soak up the stars. As a fun and educational activity, you can even practice survival skills in your backyard. And don't let the weather deter you—with
warm layers,
you can sleep outside in many places all year long.
6. Get a dog
– A four-legged friend is always great motivation to get outside. Even if it's just for a short walk or game of fetch, having a pooch will ensure that you get outside at least once or twice a day. And things like hiking, running, or exercising outdoors are always more enjoyable with a pup at your side—not to mention the heartwarming companionship.
7. Redecorate your porch
– Creating a space that you love outside is a wonderful way to motivate yourself to spend more time out there. Whether it's a plush chair, a fire pit, relaxing fountain, hammock, or umbrella, adding a comfortable spot to your outdoor environment will encourage you to get outside to enjoy it.
8. Plant a garden
– Ever wonder if you have a green thumb? Starting a garden is an excellent way to find out. Whether it's veggies or flowers, tending to a garden forces you to spend more time outdoors by having to care for it regularly. Plus, at the end of the day you'll have something to show for all of your hard work.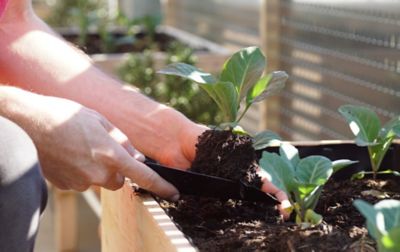 Another great way to spend time outside is to plant a vegetable garden. You'll have to go out there on a regular basis to care for it, and you'll get to enjoy delicious veggies as a bonus.
9. Book work meetings outside – Want to be outside more but feel like you're too busy with work? Try taking the office outside. Book meetings with coworkers outdoors, or try holding "walking meetings" for something new. If you work from home, take your laptop outside and see if a little sunshine increases your productivity. After all, why read those boring reports at your desk when you can read them in the park?

10. Get off the bus or subway a few stops early – Do you use some form of public transportation to get around? Another easy way to spend more time outside is to get off a few stops early. By walking the last few blocks to your destination, you'll log more time outdoors while also having a chance to explore and get some exercise while you're at it. Start small and work your way up and it will soon become a habit you enjoy.

11. Learn an outdoor hobby – Hiking, fishing, trail running, and skiing are only a handful of the many outdoor hobbies to choose from. The list is endless, so create your own outdoor adventures. Once you've gained the skills and invested the right gear for your chosen sport, the outdoors will become your second home.

12. Plan an outdoor movie night – Who doesn't love a movie night? But rather than sitting in front of the television or in a dark movie theater, consider taking the big screen outside. Hang a sheet on the garage door or between trees in the backyard, roll out a projector, and enjoy a lovely outdoor cinema.
13. Walk after work – Reduced stress is one of the many health benefits of being outside, so get into the habit of walking every day after work. Or, if you're a morning person, you can opt to walk before you hit the office. Either way, a short stroll will help you clear your head and keep you centered. It's healthier than going to happy hour, and a lot cheaper too.

14. Commit to 15 minutes a day – Whatever you do, try committing to spending at least 15 minutes a day outside. Over time, these small increments add up. You can even make a game out of it by tracking your outside streaks. Create a reminder on your watch or phone and treat yourself to a reward after 30 consecutive days. Your well-being is well worth the investment.