7 Environmental Wins That Give Us Hope This Earth Day
7 Environmental Wins That Give Us Hope This Earth Day
From tiny chameleons to protected parks, here are some reasons to keep the faith
Being an Earth lover in today's world can be disheartening. Our rainforests are being chopped down; our oceans are being polluted. The climate is heating up at alarming rates, and wildlife is disappearing en masse.

Yet amid the despair, there's still reason for hope. According to Franklin Holley, director of sustainable fashion for Conservation International, there are still tons of positive steps being taken to protect the planet. Not only that, engagement from the general public has been increasing, she said.

People are becoming more eco-conscious, both at the ballot box and the grocery checkout aisle. And though an enormous amount of work remains, there are sure and steady signs of progress. This is particularly true when it comes to the youth, Holley said. "The younger generation is getting more and more involved," she said. "[They seem] willing to think systemically and holistically. People are less afraid of these really sticky, complicated problems that seem to cut across disciplines, geographies, and cultures." Not only that, voices of change that were previously stifled are beginning to get seats on the stage.

"A rights-based approach and the voices of Indigenous peoples and local communities who have stewarded the Earth for so long are essential to successful and sustainable conservation," Holley said. "We don't have time to invent new approaches where time-trusted ones already exist. We should be giving credit to those voices, listening to them more, and doing all we can to ensure conservation is inclusive."

In honor of Earth Day—and in line with Columbia Sportswear's commitment to environmental stewardship—we asked Holley to tell us about some of the things that give her hope this year. Here's what she had to say.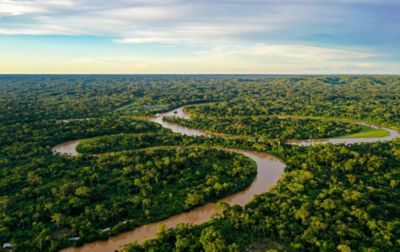 Trees got a helping hand in November when more than 130 countries pledged to stop deforestation by the end of 2030.
1. World leaders made a commitment to stop deforestation
The good news: More than 130 countries from around the world have pledged to stop deforestation by the end of 2030. During the UN Climate Talks in Glasgow in November 2021, countries representing nearly 86% of the world's forests made the promise to eliminate the practice by the end of this decade, offering a significant contribution to forest conservation efforts. Additionally, a group of more than 30 financial institutions said they will remove agriculturally driven deforestation activities from their portfolios by 2025.

Why it matters: Forest conservation has a huge impact on reducing global warming. According to Holley, forests and other high-carbon ecosystems have the potential to drive 30% of the emissions reductions needed to keep average global temperature rises at 2.7 degrees Fahrenheit (as outlined in the Paris Agreement). "To stop climate breakdown, we need to do two things: emit less carbon and remove excess carbon from the atmosphere," she explained. "[Trees are] good for our climate because they absorb and store carbon from the atmosphere—and play a large part in achieving our climate goals."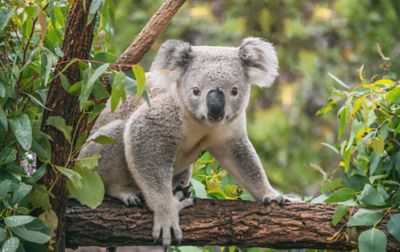 Koalas are just one of the many endangered species that might benefit from a new tool meant to provide wildlife data and guide activists in their conservation efforts.
2. A new tool might help threatened species make a comeback
The good news: Scientists have created an innovative tool that can analyze satellite data and combine it with wildlife surveys to map out the regions in the world where species are threatened with extinction due to factors like logging, mining, or other eco-hazards. Dubbed the STAR (Species Threat Abatement and Restoration), Holley said the tool will help guide conservation measures and provide data for activists and conservationists.

Why it matters: Nearly one million species are currently facing extinction, yet it's difficult (if not impossible) to create meaningful plans for protection without an accurate map of where the greatest threats lie. "Understanding our human impact on wildlife is necessary to determine which changes are needed to protect them," Holley explained.
Scientists with Conservation International have quantified the impact of wildfires on plants and animals in Amazonian rainforests, offering a useful resource for future mitigation plans.
3. Scientists have measured the impact of Amazonian wildfires
The good news: Although wildfires continue to pose an enormous threat to Amazonian rainforests, we now have a way to accurately measure their impact—something that scientists can use to establish mitigation plans. In September 2021, researchers with Conservation International published a study that quantifies specific ways these fires have devastated plants and animals over the past 20 years.

Why it matters: Given that one in 10 of the world's species live in the Amazon, protecting their fragile ecosystems is extremely important when it comes to global conservation. And reliable information is necessary to do that. "This information certainly can't turn back the clock on wildfires in the Amazon," explained Holley. "But it does provide an understanding of the toll of the fires and how to prevent widespread extinctions in the future."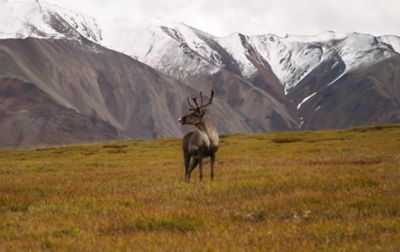 Caribou represent just one of a number of species that had been threatened by oil development in Alaska's Tongass National Forest prior to the protection that was reinstated earlier this year.
4. Oil drilling in Alaska has been shut down
The good news: Alaska's Tongass National Forest is safe again from oil drilling—at least for now. In January 2022, the Biden administration reversed a Trump-era policy that had authorized oil development in the area which is home to migratory birds, polar bears, wolves, caribou, and other wildlife.

Why it matters: The Tongass National Forest is the largest intact temperate rainforest on the planet. Particularly sensitive is the area around Teshekpuk Lake, which provides important habitat for a number of endangered species, including the spectacled eider, as well as nesting shorebirds and a 40,000-head caribou herd.
Oceans and marine life got some good news in September when more than 100 countries at the UN General Assembly promised to protect 30% of the world's oceans by 2030.
5. We saw an uptick in ocean and marine life protections
The good news: At the UN General Assembly in New York in September 2021, more than 100 countries agreed to support the National Resources Defense Council's "30x30" initiative, which aims to protect 30% of the world's oceans by 2030. Following that, Ecuadorian President Guillermo Lasso said he would expand the Galapagos Marine Reserve by 23,000 square miles, and Colombia, Costa Rica, and Panama (along with Ecuador) later pledged to establish a "safe swimway" in the Pacific that would be closed to industrial fishing fleets.

Why it matters: With more than 100 million pounds of plastic pollution entering the ocean every year due to industrial fishing activities, marine life is more in danger than ever. "We need coordinated initiatives like this one to protect the world's oceans; it's not enough for countries to implement piecemeal efforts," said Luis Suárez, vice president of Conservation International in Ecuador, in a press statement. "Whales, manta rays, marine turtles, and other migratory species do not live within prescribed boundaries. And climate change knows no national borders."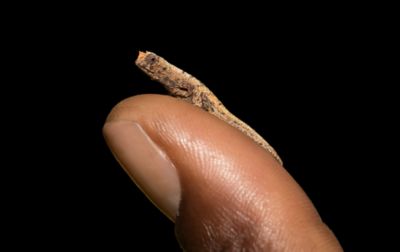 A tiny chameleon found in Madagascar (Brookesia nana)—which fits on the end of your fingertip—was one of thousands of new species discovered last year.
6. Researchers discovered thousands of news species
The good news: Despite the alarming number of threatened and endangered species, scientists nevertheless discovered thousands of new species in 2021 that you can get excited about. Some of the highlights included a Japanese centipede (the first discovered in that country in 143 years), a new type of tree hyrax (a nocturnal barking mammal in Ghana), and a spider from Papua New Guinea named after Greta Thunberg (aka the "Greta spider"). Additionally, researchers found a tiny chameleon in Madagascar that fits on the end of your fingertip—and may be the world's smallest reptile.

Why it matters: Aside from the fact that new types of wildlife make our planet more beautiful to look at, biodiversity is a critical part of maintaining healthy, thriving ecosystems. All of the Earth's elements are interconnected, relying on one another to function properly. "It's hard to boil ecosystem health down to one single indicator, but biodiversity is certainly key," explained Holley. "And biodiversity loss is driven, in large part, by unsustainable human activities."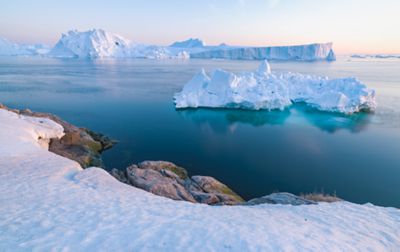 Global warming remains a top threat as the Earth loses 1.2 trillion tons of ice every year. However, the U.S rejoined the Paris Agreement last year which was a huge victory for conservationists.
7. The U.S. rejoined the Paris Agreement
The good news: In February 2021, the United States rejoined the Paris Agreement, the international treaty aimed at reducing global greenhouse gas emissions. The goal of the agreement, which 192 countries plus the European Union have now signed, is to limit global temperature warming to below 2.7 degrees Fahrenheit.

Why it matters: The Earth is currently losing 1.2 trillion tons of ice every year. Given how significantly the U.S. contributes to climate change, its reintegration into the Paris Agreement is an enormous victory. "This deserves a big mention," said Holley. "As one of the world's largest economies and second-largest emitter, it is our responsibility to participate and challenge ourselves and others to meet the targets."
Columbia Sportswear has teamed up with longtime partner Conservation International to commit to protecting 1.7 million trees by 2027.