How to Wash a Puffer Jacket
How to Wash a Puffer Jacket
A jacket care expert explains the proper care instructions for washing your puffy coats
When it comes to winter gear, your puffer jacket is a key element to keeping you warm and dry. Whether you opt for natural or synthetic down, a high-quality puffy coat allows you to continue enjoying outdoor activities, even in the dead of winter.
Knowing how to properly care for your puffer jacket will help it perform well for years to come. But puffy coats have technical features and materials that
differ from your average jacket
, so you need to know what you're doing.
We reached out to Andy Morningstar, a product care specialist for Columbia Sportswear, to get some advice on how to wash a down jacket without damaging it.
"Proper care isn't just washing it from time to time, but also how you wash it, store it, and protect it," she explains. "A
good jacket
is an investment. Maintain its quality and it will last you many seasons."
Knowing how to properly wash and care for your puffer jacket will extend its life and ensure it continues to perform well when you're outdoors.
Why is jacket care so important?
Taking good care of your down jacket isn't just about keeping it clean—it can also affect the coat's performance and lifespan. With proper maintenance, you can ensure that your down jacket keeps you warmer longer.

"The loft or fluffiness of down or synthetic insulation is how your jacket traps in air and retains heat," Morningstar says. "Letting your jacket go too long between washes can cause the inner fill to clump up, which reduces the loft."

Additionally, she explains, dirt, mud, dust, sweat, or other foreign substances left on the shell or soaked into the insulation can accelerate the breakdown of any protective durable water repellent (DWR) materials.

This could also clog up the "pores," causing your jacket to become less breathable, and add more general wear and tear, shortening its lifespan overall.

With that in mind, it's important to only wash a puffer jacket when necessary because detergents and frequent machine washing can wear down the insulation and DWR.

Also be sure your puffer jacket isn't compressed when you store it—like jammed in the back of a closet for several months. Long-term compression will result in clumping and loss of loft, gradually creating pockets without insulation that will let the cold seep through.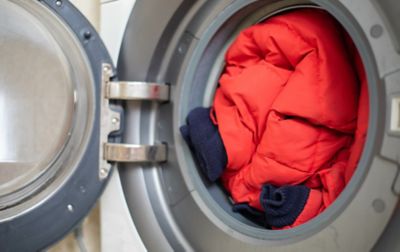 Always use a front-loading washing machine to care for puffy jackets, explains Andy Morningstar, a product care specialist from Columbia Sportswear.  
How to wash a puffer jacket
Follow these easy step-by-step instructions for how to wash your puffer jacket to avoid damaging a down jacket when cleaning it:
Before washing, close all zippers and flaps, brush off any loose dirt or grime and turn the jacket inside out.
Using a front-loading washing machine, wash your jacket on a gentle/delicate cycle using cold water and a mild detergent.
Do not use any products containing bleach or fabric softener.
Dry on low to no heat with two or three clean tennis balls to help redistribute the insulation.
Puffer jacket care FAQs
Now that you know these four easy steps, here are answers to common questions about puffer jacket care.


Should I use a special kind of detergent to wash my puffer jacket?
One of the main keys to washing a puffer jacket in the washing machine is avoiding strong chemicals that can break down the waterproofing elements that help keep you and your jacket warm and dry.
"A down-specific cleanser is really going to help you maintain your jacket (we recommend
Gear Aid
), but a mild detergent—preferably nontoxic and biodegradable—will work too," Morningstar says.
Make sure to avoid anything containing bleach or fabric softeners, and look for something suited for delicate fabrics.
Why is the kind of washing machine important?
Top- and front-loading washing machines each use a different type of force to clean clothes. "Avoid top-loading agitator washing machines, which can catch the material and destroy your jacket," says Morningstar. "You can definitely machine wash your puffer jacket with either real down or synthetic fill, but only in a front-loading machine."
How do you hand-wash a puffer jacket?
If you do not have access to a front-loading machine, you can still wash your puffer jacket by hand.

Morningstar recommends "soaking the jacket for approximately 30–60 minutes in lightly warm (not hot) to cold water in a sink or tub, then gently wash the jacket using your down-friendly mild detergent."

Make sure you rinse your jacket well with cold water and gently squeeze out any excess water, being very careful to not wring or twist as you squeeze to avoid clumping the down insulation.

And you can always spot-wash by hand as needed.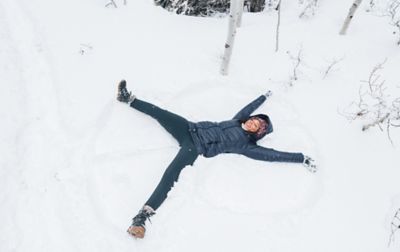 Your puffer jacket will last longer and keep you warm during more outdoor adventures if you take good care of it.
Will a puffer jacket shrink if you wash it?
Hot water and heat are the enemies of a puffer jacket when cleaning it. So to keep your puffer jacket from shrinking, make sure to always use cold water for washing and low heat for drying.

"This will depend on the materials the jacket is made of, but washing in hot water or drying with high heat could not only shrink your jacket, but could potentially damage it too," Morningstar says.

So be sure to dry your puffer jacket on the lowest heat setting to help avoid damage or shrinking. "Check the garment every 15–20 minutes to pull apart clumps," she says. "This process will help ensure that feathers are distributed evenly and the garment is completely dry, which will prevent mold. This process may take a while, but you need to avoid high heat that can damage the jacket shell or down."
Do you need to wash synthetic down and natural down jackets differently?
The main difference between synthetic vs. natural down is that synthetic down is a man-made material and natural down comes from ducks and geese. While there are pros and cons to both kinds of down, caring for them is virtually the same.

"Even though real down and synthetic insulation are completely different, their care instructions are mostly the same," Morningstar says. "You do want to try to avoid compressing a synthetic jacket as much as possible though. Synthetic is more susceptible to cold spots caused by compression."
How do you make a puffer jacket puffy again?
If you've ever felt cold in your jacket or noticed the down is getting clumpy, Morningstar says the best way to fluff and de-clump a puffer jacket is to throw it in the dryer on the lowest heat setting along with two or three clean tennis balls. In about 20–30 minutes your jacket should be nice and puffy again. You can also do this each time you wash and dry your puffer jacket to help the insulation keep doing its job.