Jacket Required: 6 Types of Outdoor Coats to Know
Jacket Required: 6 Types of Outdoor Coats to Know
From puffers to parkas, our handy guide will help you find the right jacket for any weather condition
Your body is the first to tell you when you need a jacket. But it can't tell you what kind of jacket you need. From puffers to parkas, windbreakers to rain jackets, there are endless types of outdoor jackets—and understanding the difference can be confusing. Luckily, if you take a few things into consideration, the right jacket almost chooses itself.

The first thing to think about is the weather. What kinds of conditions will you be facing? Will you be battling rain? Wind? Cold? Or maybe all of them at once? And what will you be doing in those conditions? Tackling a black diamond run or a rain-soaked hiking trail? Your level of aerobic activity also plays a factor in which jacket you choose and how you layer for the cold weather.

Whatever you're doing and whenever you're doing it, there's a jacket that will help you do it more comfortably. Let's take a look at your options in more detail so you'll always know which outdoor jacket to pull out of your closet.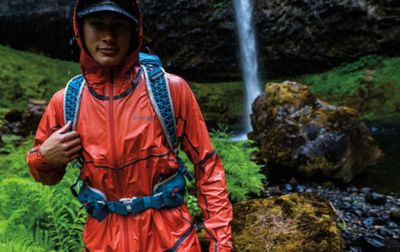 Rain jacket
When to reach for a
rain jacket
may seem pretty obvious (HINT: it's raining). However, not all rain jackets are the same, so you'll want to consider a couple of things before heading out into the wet. There are two main types of raincoats—waterproof hardshells and water-resistant softshells. When choosing a rain jacket, the first thing to ask yourself is how hard it's raining. Will you be facing light spring showers or heavy winter downpours? Secondly, how hard will you be working? Will you be getting your heart rate up hiking running in the rain, hanging out around camp, or standing still while fishing from a muddy river bank?
Generally speaking, if you're going to be contending with heavy rains or doing intense aerobic activities, you'll want to opt for a fully waterproof outer shell. These
hardshell jackets
offer lightweight, fully waterproof materials that block the rain and other weather elements without making you too hot. For lighter rain showers, or times when you're not exerting yourself as strenuously,
water-resistant softshells
make good choices because they offer added breathability. If you're in doubt about which rain jacket to choose, consider these two factors first.
Puffer jacket
While raincoats and outer shells do their part to block out the wind and rain, a
puffer jacket
is what keeps you warm and insulated. You can wear puffy coats underneath hardshell rain jackets if it's wet outside or use them alone on drier, colder days. When picking out a puffer jacket, there are a few things to keep in mind.
First, think about the insulation type. Some puffer coats are filled with natural down feathers while others are insulated with synthetic down, so it's important to understand the difference. While natural down feathers provide exceptional lightweight warmth, they don't perform as well when wet. Synthetic down, on the other hand, will continue to keep you warm in wet conditions and dry out a whole lot faster. In the past, synthetic down has often meant a bulkier jacket, but newer jackets use a synthetic down that provides warmth without the bulk.
Some puffer jackets feature fully waterproof technologies like Columbia OutDry Extreme—these make the best choices for excursions that are both cold and wet. Not only do they keep the water out, but they're made with highly breathable fabrics to keep you dry inside and out, no matter how strenuous your winter activities get.
It is important to understand the
special care puffer jackets require
. Proper washing and maintenance will keep your puffer jacket warm, breathable, and puffy season after season.
Parka
Another go-to winter jacket is the
parka
—a must-have for those months with short days and low temperatures. Combining the water-resistance of a rain shell and the insulation of a puffer jacket, a parka is an all-in-one jacket that not only keeps you plenty warm, but also protects you from whatever nature sends your way. That overall weather protection is why parkas are often the jacket of choice even during the spring and fall in cooler climates.
Because they're well insulated, parkas are ideal for everything from hunting to fishing to skiing and snowshoeing—basically any time you're looking to keep a cold snap from snapping you. Parkas are also usually a little longer than other winter jackets and often include a faux fur-lined hood, both of which offer extra protection from the cold. A shorter-length parka is called an anorak, and provides nearly the same amount of protection, but with just a bit more mobility.
Windbreaker
Wind has the power to make even mild temperatures feel downright chilly. So when the winds pick up, a windbreaker is the right jacket to reach for. It offers respite from the wind without the weight or bulk of a full-sized raincoat or parka. Whether you're
hiking
,
trail running
, or just outside on a particularly gusty day, a windbreaker is designed to keep the chill away.
While
windbreakers
can look similar to a rain jacket, they aren't intended to protect from the rain or extreme cold, so they're most often worn in the moderate temperatures of spring and fall. These jackets have one job: to stop the wind. And a good
windbreaker
will do that very well.
Fleece
No matter the season, you'll want your favorite
fleece jacket
to be well within reach. Whether a chilly morning hike, a cool evening around the campfire, or a cold day on the slopes that calls for an extra layer of warmth under your favorite
ski jacket
, fleece is always there to fill in any gaps other jackets leave behind. And what fleece might lack in extreme weather protection on its own, it more than makes up for with a heavy dose of cozy.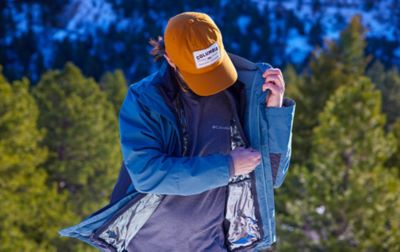 Interchangeable
An
interchangeable jacket
is the multi-tool of jackets. It combines the weather-beating power of two jackets to give you three wearable options: just the waterproof shell, the insulating liner alone, or both jackets zipped together for ultimate protection. Whether you're
skiing
, snowshoeing, or even hunting, the 3-in-1 versatility of an interchangeable jacket is perfect for those long days out in the elements when conditions are known to change, so you can change right along with them.