12 Tips for Trail Running in the Rain
12 Tips for Trail Running in the Rain
Learn how to tackle muddy trails with these tips and tricks
Trail running isn't just about logging miles. It's about exploration and adventure—which is why you shouldn't let a little rain stop you from getting out. In addition to being fun, it's a great form of training and a good way to break up your typical running routine. In fact, a wet, muddy trail has several benefits that you don't always get from running on pavement:

- Strength training: The ever-changing nature of the terrain helps you build muscle.
- Mental toughness: The extra challenge improves focus and mental strength.
- Sense of adventure: You'll never be bored navigating the puddles, mud, and falling rain.

Bonus points: The mud will make you look and feel like a total badass.

With that, here are some rainy trail running tips: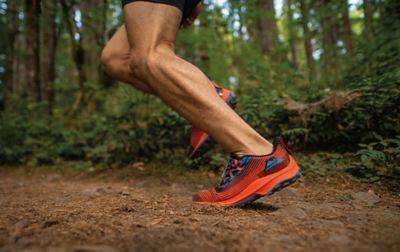 1. Start with the right shoes
Once you begin running in the rain, you'll quickly discover that good shoes are the MVPs on any wet trail run. You need excellent traction to take on the slippery, rain-soaked trail, so look for options with technologies like
Adapt Trax
™. Waterproof construction is also important to help repel rain, along with solid cushioning to absorb twists and turns.
2. Choose the right socks
Almost as important as the right shoes for the trail are the
socks
you wear. Stay away from pure cotton, which is the sworn enemy of happy feet, as it tends to stay wet and heavy in the rain. Instead, opt for choices with polyester, nylon, or merino wool blends. And choose lightweight, moisture-wicking options to prevent chafing—your blister-free feet will thank you.
3. Invest in a good rain jacket
A high-quality rain jacket is the next most important part of a wet-weather run. It's 100% worth investing in a good one—a lightweight, breathable jacket that will keep the rain out while letting sweat escape. Look for a
rain jacket
with technologies like
OutDry™ Extreme,
which offers waterproof technology that's also breathable. It's the driest you can be in the wettest of conditions.
4. Wear form-fitting clothes
Loose-fitting clothing absorbs more water and takes longer to dry, which can lead to uncomfortable rubbing and chafing while you run. Instead, opt for tighter-fitting tops and bottom baselayers made from quick-drying synthetic material that you can layer with a lightweight jacket and shorts to further repel the rain and keep you comfortably dry.
5. Embrace the wet
No matter how well prepared you are or how great your gear, when you run in the rain you're going to get wet. Accepting that will make your trail run more enjoyable—so make the wetness part of the fun and adventure. Gear up to keep yourself comfortable, and head toward the nearest rain-soaked trail for nature in its purest form.
6. Befriend the mud
In addition to getting wet, you're going to get muddy if you run in the rain. It's what trail running is all about—and a joy that fair-weather runners will never know. So jump in with both feet—literally. It will be one of the best runs you'll ever have. Just come prepared with
weather-resistant shoes
and
clothing
, preferably darker-colored clothes that don't easily show stains. Better yet, choose stain-resistant gear like
Omni-Shield
™, which is designed to repel both wet coming down and dirt splashing up.
7. Avoid cotton
Cotton has no place in extreme conditions—especially in wet, cold conditions. It holds onto moisture and has essentially zero insulating properties. In other words, make sure cotton is nowhere near your rainy trail run. Instead, choose
quick-drying synthetic fabrics
that wick away moisture to help keep you dry inside and out.
8. Wear a brimmed hat
Another great way to keep the rain from slowing you down on the trail is with a brimmed hat. You'll stay that much drier and it will shield your eyes from the rain so you can see your way to the end of your run.
9. Use anti-chafing balm
Form-fitting layers of waterproof, breathable fabrics will keep inside moisture at a minimum. But a little chafing balm before you head out into the wet will prevent skin irritation and keep your comfort going that much longer.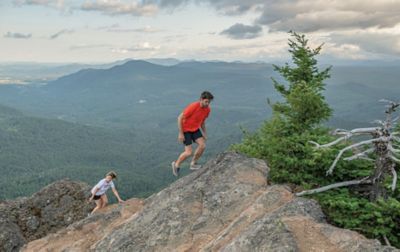 10. Enjoy the scenery
Rain has an unmatched ability to refresh just about everything, including you. There's just something about the sights, the sounds, and even the smells of a good downpour. The leaves shimmer a little brighter, the rivers run a little louder, and the entire outdoors smells a little cleaner. So don't forget to pause for a moment to take it all in.
11. Choose your path wisely
As fun as a trail run in the rain can be, be sure to always use good judgment. Carefully research trails and their current conditions. Remember that even a trail you run regularly can significantly change with a few days of rain. So if things look too wet, too slippery, or too treacherous, wait a day or two for the heavy rains to pass before venturing out.
12. Bring a dry change of clothes
There's no better reward for finishing a good run through soggy conditions than a dry change of clothes waiting for you. Don't underestimate the joy you'll feel to return to the car with a
cozy fleece
and a
warm pair of joggers
waiting for you.