What is Overlanding?
Read our handy guide to learn just what overlanding is and how to get started
Overlanding is a term that can sometimes spark confusion, but simply put, it's a recreational activity that combines driving into remote terrain with some form of camping. There's a wide range of styles and interpretations, and lots of different ways to do it. Some overlanders travel in a 4x4. Others go by truck or campervan. Some use motorcycles or SUVs—even e-bike trips can be considered overlanding.
Whatever the transportation type, there's one thing that unites all overlanders: exploring remote destinations. Every form of overlanding involves getting off-road and adventuring for at least part of the time. Along the way, there is typically camping, hiking, and other outdoor activities.
To better understand the concept, we spoke to Hannah Lu-Way, a full-time overlander who's better known on social media as "Adventure Time Loui." Based in Petersburg, Alaska, the 26-year-old has been traveling around North America by vehicle with her pit bull William since 2019. She says that overlanding has allowed her to see beautiful parts of the world she otherwise might not have had access to.
"I have been to almost every state in the USA, and driven almost all of the Trans-Canada Highway—plus detours starting in Ontario all the way to Vancouver Island." The outdoorswoman has documented all of her travels, providing tips and tricks on her
YouTube channel
.
"At the end of the day, overlanding is a term that you should make your own," Loui says of the definition. "There really is no right or wrong way to do it. As cliche as it sounds, getting outside and enjoying the journey is what matters the most."
That said, here are a few basic overlanding definitions, along with some information to help you get started.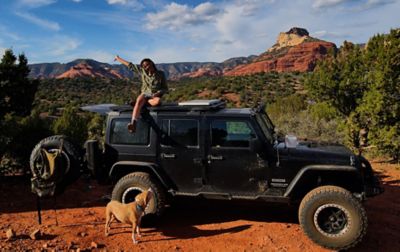 Hannah Lu-Way, also known as "
Adventure Time Loui
" on social media, says that overlanding is more about the journey than the destination. The adventurous 26-year-old has been traveling around North America by Jeep with her pit bull William since 2019.
What is overlanding?
At its essence, overlanding is any form of self-reliant travel by land that allows you to access remote outdoor places. It typically involves camping and off-roading along the way.

And while the term has different meanings depending on who you ask, Loui notes that one thing everyone seems to agree on is that the primary goal is travel, exploration, and discovery.

"Overlanding focuses on the journey over the destination" she says. "It involves fully immersing yourself in your surroundings, whether that's a forest road near your hometown or on another continent."
What's the difference between overlanding and off-roading?
Off-roading is primarily focused on the sport of driving, with a good deal of the time spent in the vehicle itself, navigating through obstacles of different levels, whereas overlanding is more about exploring new spots, camping, and stopping often to check out your surroundings, with the vehicle as the means to accomplish that.

"What makes overlanding different is that the goal is to explore a new place with lots of detours," says Loui.

That being said, she notes, "Both encounter technical trails, and depending on how technical the trail, it can require some pretty cool modifications to your rig to get through them."
How is overlanding different from regular camping?
Overlanding distinguishes itself from regular car camping by involving longer journeys to remote and challenging destinations, often spanning weeks or months, using specialized vehicles equipped for off-road travel and self-sufficiency.

Overlanders prioritize adventure and exploration, immersing themselves in diverse environments along the way. In contrast, regular camping typically entails shorter trips to established campgrounds, providing a more leisure-oriented experience with access to amenities and less emphasis on immersion in the environment. Both activities offer unique opportunities to appreciate nature's beauty, catering to different levels of adventure-seeking and travel preferences.

"There are a lot of similarities between overlanding and regular camping, like sleeping under the stars, camp cooking, and leaving no trace. But there are some key differences, too, such as what gear you'll need to bring, and the fact that overlanding is more journey focused while regular camping is more location focused."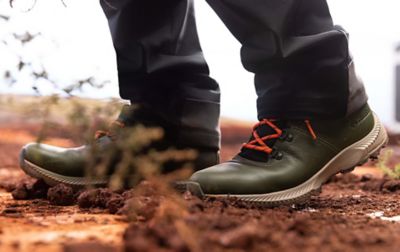 Loui says that having high-quality hiking shoes with good traction is an essential part of preparing for your overlanding adventure. Above, Columbia Sportswear's
Landroamer Explorer waterproof boot
with Omni-Grip™soles.
What gear do you need for an overlanding trip?
It's important to pack a comprehensive set of gear that takes into consideration the remote destinations that overlanding involves. Be sure to bring the 10 backcountry essentials, which covers your emergency gear such as navigation tools, extra food and water, proper clothing, fire-starting materials, a multi-tool or knife, emergency shelter, a signaling device, a headlamp or flashlight, and a means of communication.
In addition to that survival gear, Loui points to these basics:
Sleep system: A suitable sleep system includes a sleeping bag and pad, along with a tent or other sleeping setup in the back of your rig, depending on your preference and the type of vehicle you're using.
Food and water: Food is critical for sustaining energy during the journey. And depending on the climate, remoteness, and duration of your trip, you might need more water than you anticipate, so it's essential to plan and carry an adequate supply.
Regular camping gear: This should include cooking equipment, hygiene essentials, and tools to ensure a comfortable overnight stay. Experiment with various camping hacks to keep things easy, and don't forget a way to pack out your trash to stay eco-friendly.
Recovery gear: Recovery gear tailored for overlanding and vehicle-specific needs is vital and includes items like tire repair kits, a shovel for digging out of tricky situations, and recovery straps to assist in towing or pulling a vehicle when needed. Being prepared will help you handle unforeseen challenges and enjoy the journey with peace of mind.
Similar to RV camping, Loui says she also includes the following in her overlanding setup:
Satellite communicator
Diesel heater and diesel fuel
Winch
Light bar
Solar panel and charging station
Air compressor and air down tool
12-volt fridge
Traction boards
"One hack I've recently employed is using a 12v water kettle," she says. "On days where I have been driving for hours, I plug it in and then use that water for a hot drink and a dehydrated meal. When I get to my campsite it can be a lifesaver when all I want to do is relax and not pull out all my cooking gear."
Loui adds that sometimes "less is more" when it comes to the stuff you bring. "Of course, bring all the essentials like food, water, and warm clothing. But when your focus is on the adventure, you aren't too worried about how much cooking gear you have or the latest gizmo or gadget. You end up figuring out a way to do the same things with less."
What clothes do you need for overlanding?
When choosing camping clothes for an overlanding adventure, prioritize functionality. Opt for items with moisture-wicking, quick-drying fabrics that keep you comfortable during long days of exploration. Breathable materials will help regulate body temperature, particularly in hot climates, where sun protection is crucial. And look for UPF-rated clothing to shield yourself from harmful UV rays.
Learning
how to layer
is an essential part of overlanding as temperatures can fluctuate dramatically between scorching hot days and chilly nights. When selecting
clothing for overlanding
, consider versatile pieces like
fleeces
and knits, especially items with extra warming technology like
Omni-Heat Helix
, which helps retain body heat in colder conditions. Jackets featuring reflective technology such as
Omni-Heat Infinity
, recognizable by their gold liners, provide excellent insulation. Waterproof or water-resistant gear is a must, even if rain isn't expected, as weather conditions can be unpredictable.
Avoid bringing unnecessary or delicate clothing items that might not withstand the demands of overlanding. Instead, prioritize practicality, comfort, and protection by having
rugged, durable garments
that can adapt to diverse climates and terrains.
"The qualities I need out of clothing when I am overlanding are
quick-drying
, waterproof or water resistant, layerable, and options with
sun protection
. I need clothing that is also packable and has multiple functions since I don't have a lot of storage space in my Jeep," say Loui. Loui uses this clothing checklist:
According to Loui, you don't necessarily need a 4x4 vehicle to enjoy overlanding—start with whatever vehicle you already have access to. Do some simpler trips and then build from there.
How does a beginner start overlanding?
One of the best aspects of overlanding is that you don't necessarily need a specialized vehicle when you first start out. The key is to begin gradually and take manageable steps to build your skills and confidence.
"A beginner can start overlanding by planning a trip that is doable in whatever vehicle you currently have access to (you can always rent). Figure out what area might intrigue you and get some basic gear and go there. Boom, you're an overlander," says Loui.
To begin your overlanding adventure, here are some first steps:
Research and Plan: Start by researching different overlanding routes and destinations that suit your interests and skill level. There are numerous online forums, blogs, and resources that offer valuable insights and tips from experienced overlanders.
Preparation and Packing: Pack the basics, including camping gear, essential tools, and a reliable first aid kit. Dress appropriately for the climate and bring adequate food and water supplies.
Start with Short Trips: Begin with shorter overlanding trips, exploring nearby areas or less challenging routes to get a feel for the experience. This allows you to test your equipment and familiarize yourself with the essentials of overlanding.
Join Local Groups: Seek out local overlanding clubs or groups to connect with like-minded enthusiasts. These communities can provide valuable advice, support, and potential travel companions for longer trips.
Learn Basic Off-Road Skills: Take the time to learn basic off-road driving techniques, such as how to navigate rough terrain and handle obstacles. Practice in safe environments before tackling more challenging terrains.
Gradually Upgrade Your Gear: As you gain experience and determine your preferences, you can gradually invest in more specialized gear and equipment that suits your overlanding style.
Embrace the Adventure: Overlanding is all about the journey, so don't be afraid to embrace the unknown and explore destinations that are off the beaten path. Be open to learning from each experience and adapt as you go.
Remember, overlanding is about enjoying the freedom of the open road, savoring the natural world, and exploring new horizons. With a sense of curiosity and a willingness to start gradually, beginners can embark on an exhilarating overland adventure and create unforgettable memories along the way.
What are the best places for overland adventures?
The world offers a plethora of incredible places for overland adventures, but some of the best include the vast deserts and rugged landscapes of the American Southwest, like Moab in Utah or Death Valley in California. The diverse terrains of Australia, particularly the iconic Australian Outback, provide thrilling experiences. Africa offers unforgettable journeys, with Namibia's Skeleton Coast and Botswana's Okavango Delta as prime destinations. South America's Patagonia region and the Andes mountains boast breathtaking routes, while Central Asia's Pamir Highway and the Silk Road lead through remote and captivating landscapes. Europe also offers plenty of opportunities for overlanding, with Iceland's otherworldly landscapes and the scenic routes through the Balkans being popular choices.

"I love the Utah and Arizona border," says Loui. "There are incredible rock formations and many sandy roads to go down where you won't see people for days. I also will forever love Southeast Alaska where my homebase is. There are dozens upon dozens of forest roads from back in the day when logging was a predominant industry here. Each island has its own flare and is only accessible by car ferry, so it feels really special."
How much does overlanding cost?
The cost of overlanding can vary widely depending on factors such as the destination, trip duration, vehicle setup, and personal preferences, but it typically ranges from a few thousand to tens of thousands of dollars for an extended journey.

"Overlanding can be as inexpensive or as expensive as you'd like to make it. I started out with my stock JK and a 'no build, build' for my camper. Eventually I needed more capability for deep snow and obstacles, so I added on. You can find used parts or buy new ones. The act of overlanding can definitely get expensive, especially with the cost of fuel. One way I have saved money is by traveling more slowly, which actually allows you to get to know a place better," says Loui.
Do you need a 4x4 for overlanding?
While a 4x4 vehicle is not an absolute requirement for overlanding, it does offer significant advantages, especially when exploring remote and challenging terrains. A 4x4 vehicle provides better traction and off-road capabilities, allowing overlanders to access more isolated and adventurous destinations with greater ease and safety. However, some overlanding routes and destinations may be accessible with non-4x4 vehicles or even bicycles, depending on the terrain and conditions. Ultimately, the choice of vehicle should align with your intended routes and the level of adventure you seek to undertake during your overlanding journey.

A standard overlanding truck setup typically has a lift kit, upgraded front bumper and winch, exterior lighting, a good set of off-road tires, a place to cook, and a place to sleep.

"I am of course biased towards Jeeps, but I also love Land Cruisers, Toyota Tacomas, and Ford Broncos. I chose a Jeep JK as my overlanding rig because I can set my camper up in the back easily and I love how strong the Jeep community is," says Loui.

The same goes for your camper setup. Sometimes the best camper is what you already have.

"I don't think you should ever be deterred from getting out there because your vehicle doesn't have 4x4 capabilities," says Loui. "There are lots of forest roads that are accessible by just two-wheel drive. However, having 4x4 is really helpful and something that can get you out farther and to more remote destinations."

Remember, with overlanding, it's all about the journey.