Benefits of Skiing and Snowboarding
12 Benefits of Skiing and Snowboarding
You already know it's fun, but skiing has a host of other benefits too
If you're a skier or a snowboarder, you know that there's no better way to spend time in nature than breathing in the fresh alpine air while soaring down fresh corduroy or taking deep powder turns through a beautiful tree run. Whether you're a newbie skier or a seasoned passholder, the benefits of skiing and snowboarding are immeasurable.
It's a good workout that provides numerous benefits to your health, mental well-being, and quality of life. In fact, being outside in general is good for you, as evidenced by the emerging field of ecotherapy in which psychologists incorporate nature-based treatment into their practices. It turns out that "NatureRx" is one of the best medicines—and bonus, you don't need a doctor's order to
spend more time outside
.
To better understand the many benefits of skiing and snowboarding, we reached out to Joshua Cohen, a registered nurse and longtime ski patroller at Bridger Bowl in Montana. Here are 12 of the top benefits we discussed.
1. Improves Your Balance
Keeping your body upright while making your way down the mountain on a set of skis or a snowboard takes some serious concentration, not to mention balancing skills. It also makes the body more flexible, which helps prevent muscle strains and sprains.
"From your core muscles to the small and large muscle groups of the lower legs, the dynamic motion that our body is going through while skiing improves balance and stability, both important factors as we move through our daily lives," Cohen explains.
According to a report in the "Scandinavian Journal of Medicine & Science in Sports," 12 weeks of skiing
profoundly impacted the health
of 60- to 76-year-olds, leading to a significant increase in their balance, along with aerobic capacity, strength, and power.
2. It Strengthens Your Muscles
Skiing and snowboarding work a lot of muscles. Both snow sports are excellent core workouts, and they also work your legs and lower body rigorously. Because you're in the squat position for an extended period of time, the isometric posture
keeps your quads consistently engaged
, and your glutes, calves, and hamstrings will get significantly stronger too. Shifting your weight while skiing or snowboarding is essential; therefore, using your core, especially the obliques, is necessary to rotate the torso and support the lower body.
3. It Burns Lots of Calories
While there's a lot of variation on how many calories you can burn while skiing or snowboarding, a lot depends on how much effort you put in, how hard you ski, how deep the snow is, how heavy it is, whether it's groomed or not, and so on. Generally speaking, you can burn anywhere from 300 to 500 calories per hour.
As to which is a better workout, skiing or snowboarding, that's a
serious debate
best discussed over a beverage at your next après-ski. The two snow sports are rated equally in terms of calorie burn by the
Compendium of Physical Activities
, a database that calculates the energy expenditure of sports and activities. Cohen notes that it's all positive for your health in the end: "Skiing and snowboarding will engage the lower muscle groups no matter what type of sliding around you do."
4. It Increases Longevity
According to a study published in
Frontiers in Physiology
: "Downhill skiing, especially when performed on a regular basis, may contribute to healthy aging by its association with a healthier lifestyle, including higher levels of physical activity."
Skiing is also an activity you can often do into old age. It's a great adaptable sport in that you can control how fast you want to go, how hard you want to work, and how much impact you want.
Cohen surmises that "Skiing is not just a young person's sport. The enjoyment it brings is no doubt a reason that many people ski late into their lives, having lived a healthy lifestyle for many years."
5. It Boosts Your Mental Health
Being outside in the fresh air does wonders for your mental health, though it can be challenging to illustrate given that not all benefits can be measured, Cohen says. "Skiing gives me a place and activity that grounds me, gives me mental stability, and allows me to be active with my friends and family." Some of the benefits can include stress and anxiety relief—plus, the exercise may improve sleep quality and increase energy levels.
Research has shown that people who ski or snowboard are
likely to have favorable psychological effects
, which can be linked to general human well-being. Participants in a qualitative study of freeride skiers stated that they are motivated to engage in their sport by regularly experiencing pleasure, freedom, nature, challenge, balance, and social interactions. Results indicated that "improvements of psychological well-being during and after skiing may be explained by the mere exposure to nature, by the effects of skiing itself, and by the interaction of these variables."
6. It Helps You Lose Weight
Skiing and snowboarding can be good for weight loss since you're not only burning calories but building and maintaining muscle as well. In addition, the effect of skiing on your body temperature is another benefit, as cold outdoor temperatures can potentially cause you to burn more calories. But best of all, it's a form of exercise that's fun.

"It's exercise that doesn't feel like exercise," Cohen explains. "When I'm outside enjoying the fresh air on the mountain, I'm not thinking, 'I have to exercise to stay healthy.' I'm just enjoying myself, which makes the workout so much more enjoyable. When you initiate an exercise program because you're doing something fun and exciting, like skiing, the exercise doesn't feel like a chore."

And remember, even when the ski resorts are closed, Mother Nature's gym is open 24/7, with no annoying sign-up charges.
7. It Enhances Circulation
Skiing or snowboarding on a regular basis will benefit your heart and lungs and improve the efficiency of your cardiovascular system, according to Cohen. Riding downhill is a great aerobic workout for your heart, and because it's done outside, it can improve circulation and infuse the body with fresh oxygen. When your blood circulation improves, your body's tissues receive more oxygen and nutrients.
8. It Offers a Great HIIT Workout
The start and stop nature of skiing and snowboarding makes it a great HIIT workout. An easy gondola or chairlift ride up the mountain, followed by an intense, focused run downhill—a personal trainer couldn't create a more perfect HIIT training session.

"Skiing and snowboarding provide the body with a short high-intensity workout while our muscles lengthen and shorten through the exercise, giving us isometric, concentric, and eccentric benefits for our muscles," Cohen says. "Because we can stop along the trail and enjoy a chairlift ride, the short-interval exercising we do allows us to gain more endurance overall. Getting the benefits of these popular gym workouts while having fun in the fresh air makes it seem like you're not 'having' to exercise."
9. It Improves Your Overall Health
Like all forms of exercise, skiing and snowboarding help you maintain good overall physical health by reducing the risk of cardiovascular disease, diabetes, high blood pressure, and mental health problems, Cohen says.

"You're exercising your heart and lungs when you're skiing in the form of anaerobic and aerobic energy, strengthening the cardiopulmonary system, helping to lower unwanted lipids, and stabilizing glucose levels," Cohen explains. "Our bone strength, balance, and stability improve, too, because skiing and snowboarding require the use of many muscle groups, leading to the protection of our ligaments and tendons. Even our central nervous system is working while we ski as neurons 'talk' to our body while we move."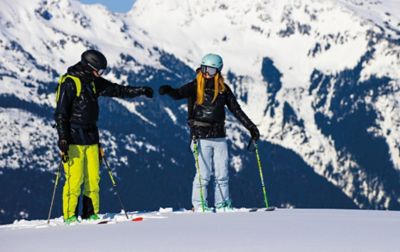 10. It Builds Community
Skiing and snowboarding are social sports, not only because you can do them with friends and family, but also because there's a whole ski and snowboard community you will quickly become a part of. "Having a social group and feeling a part of a ski hill community has unmeasurable benefits to one's life," says Cohen.

And best of all, it's an intergenerational activity that people of all ages can enjoy. It's not uncommon to see lift lines filled with groups of teenagers next to clusters of octogenarians—and parents having the same fun in the snow as their children. On the slopes, the only thing you need to share is a love of sliding on snow.
11. It Enhances Self-Confidence
From the bunny hill to the highest peaks, the feeling we get when overcoming our fears and hitting your goals brings a high level of self-confidence.

Cohen says, "I associate the confidence I have in my life with the fact that skiing has nourished me over time with the ability to believe in myself, to challenge myself, and to understand that I can overcome difficulties through hard work and determination."
12. It Makes You Happy
Heading to the slopes can be a great form of self-care. In addition to improving your mood, going to the mountain on a bluebird day gets you out of the house and into the winter sunshine. If you suffer from seasonal depression, a dose of vitamin D can help. And like most forms of exercise, skiing and snowboarding release endorphins, making you feel calmer and happier.
"I have been skiing since I was 3, and there is no place that I am more comfortable and happy than being on the ski slopes," Cohen says. "Skiing has allowed me to be healthy without even trying because I get so much enjoyment from it. When I think back to the best times of my life, I easily picture moments I have had on the ski hill with family and friends."
Research has shown that
skiing is associated with pleasure
, ultimately leading to a feeling of satisfaction in those who participate.
"If you look around a ski hill, it's easy to see the happiness that everyone is experiencing. From the youngest to the oldest people out there, happiness and joy are the overriding emotions," says Cohen.
Ready to prepare for ski season?
Now that you have so many great reasons to go skiing or snowboarding, it's time to get ready. Cohen suggests doing some simple exercises to get in shape before hitting the slopes. (Remember, though, that you should always check in with a healthcare provider before beginning any new exercise program.)

"Riding a bike or walking with some incline are both excellent ways to start working some of the muscle groups you'll use skiing and snowboarding," he says. "Yoga is also a great way to build some core strength and flexibility that will help you on the mountain."