Why These Five LGBTQIA+ Adventurers Go Outside
Why These Five LGBTQIA+ Adventurers Go Outside
From hiking in Patagonia to sailing the Atlantic coast, here are the stories of five adventurers and what the outdoors means to them
Everyone who's outdoorsy has a different story. Some people get introduced through childhood mentors. Others have spiritual moments as adults.
Some folks are simply born with adventure in their blood.
Whatever path people take, one thing is clear: once the outdoors calls, it's hard to resist. Whether drawn to endorphin-pumping activities like
hiking
and
trail running
or the meditative peace of communing with nature, spending time outside is powerful—it's a practice that fosters community, builds confidence, and provides meaningful experiences in day-to-day life.
Today, there are organizations throughout the country that are dedicated to encouraging LGBTQIA+ folks to get outside more and find community.
The Venture Out Project
(TVOP), for instance, provides resources and coordinates wilderness excursions aimed specifically at queer and transgender folks. Common events include hiking, camping, backpacking, skiing, snowshoeing, rafting, and kayaking trips.
Columbia Sportswear is proud to partner with The Venture Out Project in our continued effort to encourage everyone to get outside.
The lack of representation that sometimes occurs in the outdoor industry makes the community aspect especially important for LGBTQIA+ folks. Industry magazine covers and clothing advertisements aren't always very queer-focused, for example, and group activities can often feel unrelatable. As a result, LGBTQIA+ people don't always feel welcome or included in outdoor spaces.
"If a child doesn't see someone who looks like them—if they don't see it, how can they know that they can do it?" explained TVOP Volunteer Coordinator Kenjah O'Donnell at a recent group event.
To celebrate Pride Month, Columbia Sportswear sat down with five LGBTQIA+ adventurers to discuss the paths they took to getting outdoors—the moments that inspired them, why they were meaningful, and how
being outside
intersects with their queer identities.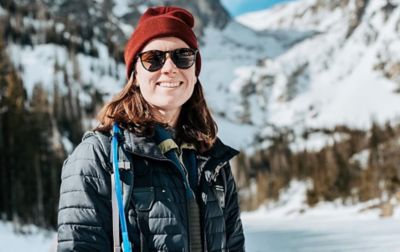 Savanna Shackleford
Videographer - Philadelphia, PA
Savanna Shackleford was sailing under starlight on a 131-foot schooner the first time she felt the outdoors calling her name. An eager middle schooler with dreams of becoming a marine biologist, her parents had signed her up for a monthlong sailing course up the coast of New England to see if she was up for life at sea.

As she stood on bow watch one evening, she peered over the edge. Down below, the mesmerized 13-year-old could see swirls of neon blue patterns sparkling in the water.

"Every little star was shining its light onto the waves," the Philadelphia native recalled. "It was pitch dark and all I could see was the horizon line where the ocean met the sky. The bioluminescence was dancing off the white caps flowing along the hull.

"It was so incredible. I felt like the earth was speaking to me, and ever since then I've been chasing that feeling of peace."

She got her scuba diving license and spent most of the ensuing years exploring things underwater. By the time she landed in college in North Carolina five years later, she'd decided to take the film school route instead of biology, figuring it would let her spend time outside without becoming a "stressed-out scientist." However, she remained steadfast in her passion for all things marine science.

At the same time, she began building a quiver of other outdoor pursuits, including hiking, camping, backpacking, rock climbing, surfing, and snowboarding. While living briefly in New Hampshire, she tackled several of the region's 4,000' mountains.

In August, the videographer is planning a move to Colorado to take a new job in script-writing, where even more outdoor opportunities will await her.
"I use the outdoors as a way to decompress and to escape some of the craziness of the world."
Shackleford says that being in nature is therapeutic for her. Not only that, there's a spiritual and religious element, she says.

"I have anxiety, so I use the outdoors as a way to decompress and to escape some of the craziness of the world," she explains. "Outside I feel calm, which I don't feel a lot in my day-to-day life. It's an escape."

Growing up, the outdoors also gave her a space to explore her identity, she says, like wearing "tomboyish" clothes without being judged. It provided her with a reason to be tough and get dirty, which she loved.

"As a kid, I was always wanting to dress like a boy or be a little more rugged," Shackleford recalls. "My best friend was really girly, but I was the one always out playing in the mud. The outdoors were an excuse for me to dress more like how I felt inside.

"Out in the wilderness I could be in T-shirts and crappy pants. It gave me more freedom to express myself. To not be put into a box."

Earlier this year, Shackleford's longtime girlfriend proposed and the two are planning a wedding after their move out west. Once they've settled, she hopes to connect with a community of outdoor-minded people who share her interests and lifestyle.

Someday Shackleford would like to work for an outdoor media company so she can blend her passion for the outdoors with her career. She'd also like to use these mediums to make the outdoors more accessible and inclusive, particularly for other queer folks like herself.

"I'm of the belief that the outdoors is for everybody," she says. "I want to be able to tell my story and other people's stories—so that everyone knows that the outdoors can look different for everyone."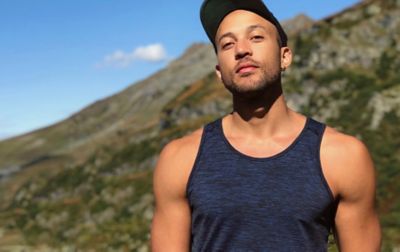 Rocky Heron
Yoga Instructor - Los Angeles, CA
For Rocky Heron, being outside has never been about climbing the highest mountain or running the fastest mile. It's been about connecting with nature.

This idea can sometimes get lost amid the popular outdoor imagery of ultra-rugged mountain men scaling vertical rock faces or logging personal records.

But Heron's love for the outdoors isn't rooted in hardy athleticism, he explains.

"That's not really why I go outside or why I love nature," he says. "It's not so much about beating my record. It's about connecting with the natural world."

The only child of a single mom, Heron and his mother moved to the small town of Sonora outside Yosemite National Park when he was about 10 years old.

With the Sierra Nevadas in his backyard, he grew up camping with friends and taking day trips into the park. Sometimes they'd hike to remote waterfalls, while other times they'd rent bikes to explore the scenery on two wheels.

Heron credits his mom with instilling in him a lifelong passion for the outdoors.

"It was important to her that I grew up a bit more immersed in and connected to nature," he recalls.

As an adult, Heron has gravitated toward big cities like New York, San Francisco, and Los Angeles, where he currently resides. The outdoor connection is what keeps him grounded amid the hustle and bustle of urban life.

"I live in a warehouse in downtown LA," Heron says. "It's a concrete box in the middle of a concrete city. This has created a heightened awareness for me of the benefits I receive and how my body feels when I get to be out in nature.
"Nature doesn't judge you. Nature doesn't have an opinion about who you should or shouldn't be."
As a kid, Heron struggled with asthma, which initially turned him off to the outdoors—something he equated with endurance-based activities. Being a blend of masculine and feminine energies also ran counter to his idea of an "outdoorsy" person.

"I've always been more of a creative type than an athlete," he explains. "As someone with a flair for aesthetics and beauty and art and performance, it felt like the outdoors wasn't really for me. It was for the more rugged adventurer, or the athlete, or that more masculine-encoded kind of energy."

In recent years, however, he's reconnected with the outdoor-loving side of himself, which has been profound, he says, particularly when he gets to share it with other gay men. He's rediscovered childhood hobbies such as hiking and camping, and now leads queer yoga retreats in Costa Rica.

He also started attending Burning Man, which has been especially meaningful because it's allowed him to connect with queer people who share his eccentricities and also love being outside. It brings out a "childlike innocence," he says, when he and other gay men spend time together outdoors.

"You start to jump off rocks into swimming holes and climb trees and explore nature. It connects us with the children [we were before] sexual identity or shame or any of the things that tend to define a lot of us.

"Being able to go out into the desert with the queer community and bring costumes and play and frolic around in the forest—it's allowed me to reinvestigate my relationship with the outdoors where it's not just activity-based, but a place to dance and be creative and play."

It also provides a safe space to be who they are, he says.

"There's so much that's projected onto us as gay men, and for a lot of us, there's not really a template for who we're supposed to be. Creating a connection with nature transcends sexual identity and those different labels.

"Nature doesn't judge you. Nature doesn't have an opinion about who you should or shouldn't be. There's not a specific version of yourself that's supposed to show up. Exploring and using your body in a way that adapts to the natural world, it's a sort of reset. A coming home."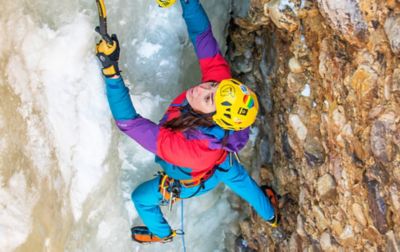 Photo credit: Jake Hirschi (image above and header)
Nikki Smith
Pro Rock Climber - Salt Lake City, UT
Nikki Smith is the epitome of a badass. As a professional climber, she boasts more than 150 first ascents. She's proficient on rocks, ice, and snow, and also manages to be a professional trail runner.

In some ways, Smith's rock-climbing stardom was inevitable. She grew up in an outdoorsy, rock-obsessed family near Salt Lake City, where her dad used to take her hunting for minerals and fossils.

Despite being afraid of heights, rocks were in her DNA, so Smith immediately took to climbing them, saying it helped clear her head.

"There was something about it that focused my mind in a way I'd never experienced before," she says. "Everything went quiet. I could just shut out the world for a little bit."

In school, Smith says she never felt like she fit in—her family struggled for money, she lost her father to leukemia when she was 14, and she was trans at a time when few people even knew what that meant (including herself). Climbing provided a space for her to just be herself.

"Outside, I didn't feel judged. It was a place where I could just exist and relax and not have to worry if I was gonna get made fun of. I was just able to be."

By college, Smith had become deeply entrenched in the climbing world. Yet as much as she loved the community, it was "macho and male dominated," especially in the ice and alpine spheres. Coming out didn't seem like an option.

"I'd sit and listen to climbing partners, coworkers, friends, family, say horrific things about trans people right in front of me," she recalls. "They had no idea. And so you catalog [those comments] and you think, 'OK, well if I ever come out, they're out. They're not gonna be supportive. Neither is that person. Or that person.

"There was just no way I felt I could come out and be myself."
"My thing now in the outdoors is to be very visible. To be the person—the woman—that I never had."
For almost two decades, Smith continued gaining accolades and prestige. Yet the more well-known she became, the harder it seemed to come out, so she kept her identity a secret.

By 2017, she was in her 40s and at the top of her career, yet the burden of living inauthentically had become too much to bear.

She decided to end her life in the mountains and make it appear like an accident.

"I wasn't gonna have a note or anything because I didn't want anyone to know why," Smith recalls.

The night before she was to carry out her plan, she stumbled upon a quote from Brené Brown about letting go of protective armor and living a life more aligned with your true self.

The last line read, "It's time to show up and be seen."

It felt like the words had been written just for her.

Smith realized in that moment that she had nothing left to lose. It was time to see if she could exist as her true self and still be happy.

At first, she only came out to her counselor.

"I struggled for a long time," Smith says. "I wanted my therapist to try to fix me and tell me how I could just stay alive pretending to be someone I wasn't. It took a while to let go and accept who I was."

It wasn't until 2018 that she came out publicly. Since then, it's been a completely different world, she says. Some people have been supportive while others haven't.

But at the end of the day, she's living true to herself and inspiring others to do the same. What's more, in saving her own life that night, she saved the lives of countless others too.

"I get messages almost every week now because my story has been told in magazines and podcasts all over the world," she says. "They're from people who say they thought they were alone and then they read my story.

"So my thing now in the outdoors is to be very visible. To be the person—the woman—that I never had."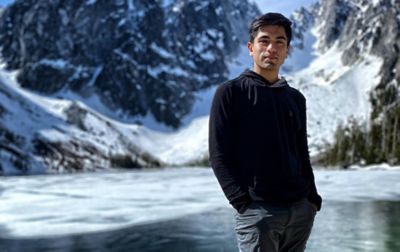 Allen Cárdenas
Outdoor Recreation Planner - Seattle, WA
Allen Cárdenas was surrounded by wild horses in the foothills of rural Mongolia the night he truly discovered the outdoors.

He'd been teaching English abroad as a college student and his host family had taken him on an excursion near Gorkhi Terelj National Park. Up till that point, he'd never been camping, nor had he been particularly interested in activities that involved "roughing it."

Yet something during that trip spoke to him.

"We were out there for two or three days," he recalls. "It was muddy, it was dirty, it was raining. But I just remember sitting around the campfire with my host brother and his friends.

"They told stories in Mongolian—there was lots of laughing, lots of jokes. There were very few English speakers there, but I realized I didn't need language to communicate with them. I felt the spirit of what they were saying, and I felt really connected."

Later that year, he had a similar experience while studying abroad in Argentina. On backpacking trips through Salta and Patagonia, he became enchanted with the region's natural beauty.

"It was really transformative," he says. "I got to see some desert landscapes, some really lush, alpine-type landscapes. That was my first time actually hiking and I loved it."

Following his experiences abroad, Cárdenas returned to Washington, D.C., but realized the city was no longer right for him—he wanted to be closer to this newfound love of the outdoors. He went backpacking through Peru and Mexico, then moved to Seattle. There, he began learning mountaineering skills and secured a fellowship with the National Parks Service where he still works today.

When Cárdenas thinks about his connection to nature, he realizes it's the social aspect that draws him in most—something he largely attributes to his Latino roots. Like in Mongolia with his host family telling stories, he's happiest outside when people are talking and sharing.

"Family is a big core value of mine," he says. "Sometimes it's bigger than I realize. What it really boils down to is community. That's part of my culture.
"I don't have to change the way I talk or hide my interests. I can show up as my true self. I don't need to code-switch anymore."
Cárdenas grew up in Modesto, Calif., where his family wasn't outdoorsy in the classic sense of the word, he says. However, his grandfather was a farmer who fostered an early connection to nature.

"He had a beautiful garden where he taught me farming techniques," Cárdenas recalls. "We'd spend summers growing tomatoes and peppers. My family would eat together outside. I think I've taken that with me."

His view of what it means to be outdoorsy has shifted in recent years, along with his view of what it means to be gay, particularly after a negative experience with a romantic interest—one he called both "jarring and informative."

"He essentially said I wasn't 'gay enough' because I like to be outdoors and I like to go hiking," Cárdenas recalls. "He was very much putting me in a box. "I was like, 'Aren't we supposed to be breaking down these stereotypes?'"

The experience helped him let go of preconceived notions he'd had about the outdoors or how his identity intersects with those spaces.

"A lot of people feel they need to change themselves in certain spaces," he continued. "What I've learned is that I can be a hiker, and I can be gross and dirty—and still be gay. I don't have to change the way I talk or hide my interests. I can show up as my true self. I don't need to code-switch anymore."

He now has a longtime boyfriend who loves the outdoors as much as he does. Being outside with him has changed everything, Cárdenas says.

"I feel strong. I feel invincible. I feel powerful. I feel like we can do whatever we want, be whoever we want to be, and take the space that we need."

He doesn't have to change anything about himself anymore, he says.

"When I was young, I felt the need to be masculine, to be that rugged image of the football player or whatever. But I don't feel that anymore. I find value in myself. I'm not the most masculine person, but that's OK. I think that's beautiful.

"It's my own. I'm my own version of me."
Michaela Pilkenton
Pro Kiteboarder - Maui, HI
Michaela Pilkenton has been on world tour recently doing epic things outdoors—just one of which is becoming the first openly gay professional kiteboarder.

From Mexico to France to her current home in Hawaii, Pilkenton has been breaking down barriers and "making waves," so to speak, in the world of kiting.

But she didn't start out at the top.

A native of Sherwood, Ore., a small town outside Portland, she grew up with a regimented sports lifestyle that ran the gamut from soccer to figure skating. It was always a balancing act between figure skating's hyper-femininity and the tougher, more masculine vibe of soccer.

Pilkenton found the gender norms difficult to keep up with, she says. She was made fun of for being too masculine or not having boyfriends, and rarely felt like she could relax and be herself.

"High school was pretty rough because I was closeted and bullied a lot," she recalls. "The spaces that did exist and were available to me were not inclusive or welcoming."

However, things began turning around in college when she discovered the Outdoor Pursuits Program at the University of Oregon. In addition to offering an inclusive environment for LGBTQIA+ folks, she discovered backcountry skiing and snowboarding—and her first true taste of freedom and self-acceptance.

"The Cascades became my backyard playground," she recalls. "The first time I felt free was the first time I ever went snowboarding. I hit the mountain and I could go anywhere I wanted. I was under a mask. Nobody cared who I was, what I looked like. It was that feeling of freedom [that drew me in]."

Empowered by the freedom and adrenaline, she decided to try a new sport between her junior and senior year: kiteboarding. It turned out she was a natural.

"The lesson should have only been an hour and we were out for four. I was kind of one of those 'zero to hero' people that everybody hates," she recalls, laughing.

She worked out an arrangement with a kite school on the Oregon Coast to help pay for her newfound passion and her skills accelerated quickly. Soon kiting became her whole life.
"If you're somebody who's gay, you maybe look at [kiteboarding] and think it's not a space where you belong. So I've tried to bring awareness to the sport for queer folks."
During a 2019 competition in Hood River, Ore., Pilkenton turned heads when she landed a kite loop on a 12-meter kite—a huge size for the amount of wind that was blowing that day. At the time, few women were attempting kite loops at all, let alone going that big and then landing them.

"I never made it out of the first round, but a lot of people came up after and were like, 'Wow, you hucked a kite loop out there,'" she recalls. "No one expected a woman to do that."

Last December, after three years and countless more kite loops, Naish brought her on as an official international team rider. The move made her the first openly queer kiter to have complete sponsorship.

Today, she lives in Maui where she's enjoying the fruits of her labor. However, she's noticed that kiteboarding doesn't always feel as inclusive as skiing and other outdoor sports did in college. It's still very "bro-ey," as she calls it.

So she's made it part of her life's mission to change that.

"I've tried to bring awareness to the sport for queer folks," she says.

Before each competition, she pins a rainbow to her jersey to create awareness.

She'd like to start organizing LGBTQIA-focused events too, but the small number of participants makes it challenging. "There aren't a lot of folks into kiting to begin with, and it's something that's very spread out," she says. "[If I tried] to organize a queer kiting night on Maui, I think it'd be me and my girlfriend, and, like, one other lesbian couple," she laughs.

"There just aren't the numbers currently to hold those spaces."

In the interim, however, she's been organizing women-focused events and says that she'll do queer clinics and camps as the sport continues to grow.

For now, she's happy to have the opportunity to bring visibility and representation to the sport she loves so much.

"We have a saying in our family: 'Take up space.' Just taking up space as a professional kiteboarder who is gay and out and open about it and posting about it—I think that's really huge in this community."