What to Bring Winter Camping
What to Bring Winter Camping: An Essentials Checklist
Gear up for the ultimate adventure with our winter camping checklist
We all know that winter hiking has its perks: less-crowded trails, solitude in the snow, and quiet, peaceful campsites to call your own.
Spending time outdoors
in winter is a special and unique experience—but your trip will only be as enjoyable as your preparation. So it's critical to pack the proper gear to stay safe and comfortable when camping in the cold season.
Before heading out, you'll need a gear checklist to ensure you have the equipment and high-quality clothing that will keep you dry, comfortable, and well insulated during your winter camping experience.
So we reached out to winter camping expert Meghan Young, cofounder of
PNW Outdoor Women
, to ask which items she believes are the most important to put on your winter camper packing list and compiled them all here.
Winter camping essentials
A solid tent
Winter camping in frigid weather requires a reliable shelter, so investing in a high-quality
cold-weather camping tent
should be at the top of your list. Choose a tent that can handle winter elements, including high winds and heavy snow.
"Your shelter is very important in the winter, and while you do not need a four-season tent under the right conditions, you will want a reliable, sturdy tent that's waterproof," Young says.
Be sure to use a
tent footprint
. It will help keep you warm by providing insulation between your tent and the cold ground, and prevent moisture from dampening the tent floor.
A shovel
If you plan on camping in the snow, a shovel is an integral piece of gear. As Young points out, "You'll need to dig yourself a nice tent platform with some protective windwalls, and you'll also want to fill in your platform when you leave. A shovel is critical for this."

A shovel has many other useful purposes as well: digging a fire pit, collecting fresh snow to boil for drinking water, moving the embers around in a campfire, building a rain trench around your tent, leveling the ground where you pitch your tent, and more.
Adequate calories
Food is fuel and you'll need a well-planned supply of it during cold-weather camping. Bring items that are dense in calories, such as nuts and seeds, dried fruit, hard cheeses and salamis, and energy bars.

"You will burn more than you think in the winter, and it's important that you keep your body fueled up for whatever you ask it to do," says Young.
Navigation
Proper navigation tools are a must for doing any sort of cold-weather camping. These include maps, a compass, an altimeter, and a GPS device. "You may find yourself in a whiteout or difficult conditions that require navigation skills that don't rely wholly or solely on electronic devices," says Young.

Make sure your navigation skills are up to speed and that you're familiar with how to use all of your devices so you're not fumbling with them in the cold during a stressful situation. Also try to keep your extra batteries inside pockets or close to your body to keep them warm to prevent draining in the cold.
PLB or satellite communication device
A personal locator beacon (PLB) or satellite communication device is essential when outdoors in snowy conditions. "Winter weather can get wonky, and storms can come in unexpectedly. Having a personal locator beacon or satellite communication device to call for help or let your loved ones know you're safe but delayed can prevent miscommunication and potentially save lives," says Young.
Avalanche gear
If you will be spending any time in the backcountry, you'll want to make sure your snow camping gear includes the appropriate avalanche safety equipment. At a minimum, this should include a beacon, probe, and shovel (which should already be a staple on your gear list), and you may want to consider an airbag pack too.

As Young states, "Anyone traveling through or below avalanche terrain should bring avalanche gear and should also have the appropriate training required to deploy it."

Taking a class on avalanche safety is recommended any time you plan on being in the backcountry in the wintertime.
Warm baselayers
The best winter camping clothes include
warm baselayers
made from moisture-wicking performance fabrics to keep you cozy and dry. They are crucial for any physical activity, especially when it's chilly outside.
"You need warm baselayers that wick sweat and moisture away from your skin. These are the often unsung heroes of your winter gear kit—including
socks
," says Young.
Waterproof layers, including boots
A
waterproof outer layer
will protect you from the rain, snow, and wind while on the trail or at camp. In addition to a fully waterproof shell, consider bringing a jacket with special warming technology like Black Dot. These NASA-inspired jackets use reflective heat on the coat's exterior to add extra warmth that will keep you toasty without compromising breathability.
Your body heat is also strongly influenced by how warm your feet and toes are. A solid pair of
waterproof boots
are vital for winter camping and trekking, and wearing thick, insulated socks is just as crucial.
A warm hat and neck gaiter
It's essential to wear a hat and a
warm neck gaiter
to maintain body heat when camping in the winter. "My favorite piece of gear year-round, a neck gaiter is a clutch winter layer," says Young.
Choose a hat made of
high-performance synthetic materials
, preferably with technology like Omni-Heat Infinity for added warmth, and wear it to bed to prevent body heat from escaping during the night.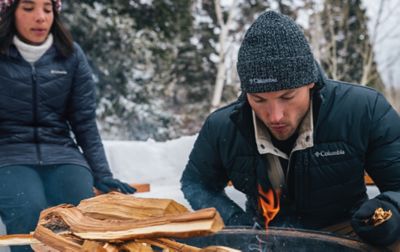 A high R-value sleeping pad
Using foam sleeping pads or stacking two different types of pads under your sleeping bag will make your winter camp warmer by adding another layer of insulation to the tent floor. Opt for insulated sleeping pads with a high R-value, an insulation measurement that ranges from 1.0 to 8.0—the higher the R-value, the warmer you'll be. If you're car camping, you can also place a thick blanket or rug underneath the pad for additional insulation.

It's also a good idea to have an emergency foil blanket with you, often called a "space blanket." Similar to jacket technologies like Omni-Heat™ Infinity, these thermal blankets keep you warm by reflecting your body heat back to you. They also provide a water-resistant covering.
Blue bags
Pack plenty of waste aggregation and gelling, or WAG, bags (also commonly referred to as "blue bags") for doing your business in the backcountry. Not only are they convenient, but they help you maintain the principles of Leave No Trace. As Young says, "Toilets are often closed in the winter, and no one wants to encounter human or dog feces on an otherwise pristine landscape. Pack it out."
The 10 backcountry essentials
In addition to everything above, Young recommends making sure you have all of the 10 essentials of the backcountry.
It's a good habit to bring these 10 essentials with you any time you venture into the wilderness, but especially during winter treks. While you might only utilize a handful of them or perhaps none at all on a typical trip, it's easy to understand the importance of keeping these items on hand if something goes wrong.
Food/nutrition – Have enough food not only for your planned excursion, but pack extra should you be out longer than expected.
Water – Use a water bottle or hydration pack and bring a water filtration system. In winter, have a way to boil snow into drinkable water.
Headlamp/illumination – Bring a good headlamp or flashlight and double-check that the batteries are working.
Fire starters – Keep fire starters such as matches, a lighter, and tinder in a dry place in your pack.
Knife/repair kit – Bring a sharp knife or multi-tool.
Sun protection – Wear sunglasses, sunscreen, or clothes with sun protection.
First aid – Bring a kit with the standard essentials you'll need for any emergency. Be sure to stock extra of any medications you take.
Insulation/extra clothes -– Carry an extra set of warm clothes, including a puffer jacket and fleece midlayers, for additional insulation or in case you get wet. Opt for extra-warm technologies like Omni-Heat Infinity and Omni-Heat Helix.
Shelter – Bring a quality tent and make sure it is with you at all times—this will be especially important if you have to camp in a snowstorm.
Navigation – Before heading out, be sure you have proper navigation skills and tools and know how to use them.