How to Layer for Hiking
Check out our complete layering guide before hitting the trail
Sometimes the toughest part of prepping for an outdoor adventure is knowing what to wear. Weather and temperatures can change dramatically while out on the trail, so having a solid idea of what to bring hiking and how to layer your clothes can be the difference between a successful adventure and returning to the car early. One of the keys to layering hiking clothes is bringing items you can slip on and off easily, depending on the conditions. We've broken our guide into summer and winter hiking so you know what to pack and when.
Basic layering principles
Whether you're layering for hiking and backpacking or gearing up for another type of outdoor adventure, there are general layering principles that apply anytime you're
spending time outside
. The specific layering strategy will differ slightly, depending on whether you're trying to stay warm or beat the heat, but the same basic elements will be involved: a baselayer, midlayer, and outer layer or shell. With those three pieces, you can adapt to almost any weather conditions and stay comfortable during your hike.
The three-layer rule
Baselayer - A hiking baselayer is a thin layer worn closest to your body, so it must be able to wick sweat away to keep you dry, cool, and warm.
Midlayer - This is your insulation layer. Think of items like fleeces, puffy jackets, or slightly thicker long-sleeved shirts. Hiking vests can also make good midlayers.
Outer layer or shell - Your outer layer or hiking shell serves as your protection from the elements. The best outer layer for hiking will block the wind or rain while still being breathable enough to hike comfortably.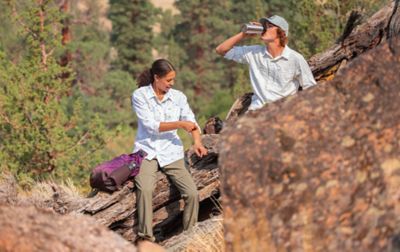 Summer Hiking Layering
When hiking in the summer, you might not think about layering, especially if you're in a hot climate. However, you will need something to protect your skin from the sun while still keeping you dry and cool. You'll also want to be prepared for summer hiking conditions that can change rapidly and include everything from hot, humid temperatures to rainstorms, wind, and cool, brisk conditions.
If temperatures are warm, you might choose a simple
hiking shirt
as your baselayer with a pair of
hiking shorts, pants, or leggings
. Just make sure the material can manage sweat. Choices with
moisture-wicking technologies
like
Omni Wick™
work best.
When layering for hiking in extreme heat, you'll want to have UPF-rated clothing such as
Omni-Shade™
,
Omni-Shade™ Broad Spectrum
, or
Omni-Shade™ Sun Deflector
. Hiking clothing with this type of fabric, which has been found to be more effective than sunscreen, absorbs and scatters UV radiation to protect you from sunburn and skin damage.
You may also want to consider garments with
cooling technologies
like
Omni-Freeze™ ZERO
or
Omni-Freeze™ ZERO Ice
to prevent you from overheating.
On days that are really hot, you might not need a midlayer. However, in cooler temperatures or on morning hikes when it tends to be chillier, you'll want some sort of fleece, vest, or light puffer jacket for insulation.
If there's no chance of wind or rain, you may be OK with just the midlayer and not need an outer layer. But if there's any possibility of precipitation or heavy winds, you'll want an outer shell too. Remember, it's always better to be over-prepared than to find yourself in the wilderness without proper weather protection.
Your outer layer will be either a
rain jacket or windbreaker
, depending on the hiking conditions. Rain jackets are meant to protect you from the rain and wet weather. Before you make a purchase, do some research about how to pick the right rain jacket for your hike, and make sure you understand the differences between waterproof and water-resistant. Windbreakers, on the other hand, are only meant to block the wind. They are a good choice for hot, dry days, particularly at higher elevations or extra windy locations.
Keep in mind that as temperatures rise or drop throughout the day you will be adding and shedding layers, so pick options that are lightweight and compact so they don't feel heavy in your backpack.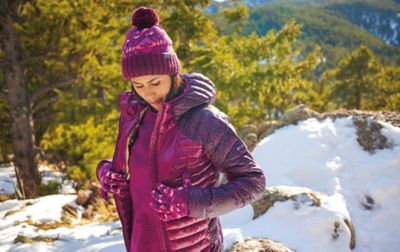 Winter Hiking Layering
When it comes to dialing in your winter hiking layering system, the same three-layer rule applies, but the layers will be longer, thicker, and warmer. You'll also want garments with special warming technologies to protect you from the cold.
Your bottom layer will consist of a thin, long-sleeved shirt made from polyester or nylon, similar to what you'd choose for baselayers for skiing. The idea is to have something underneath your
winter gear
that sits next to your skin, wicking moisture away so you're not sticky and uncomfortable.
For your midlayer, you'll want something with insulation to provide warmth. If you opt for fleece, choose an item with Omni-Heat™ Helix, which uses tiny performance heat cells for extra warmth. In colder climates, you'll be glad to have the added heat.
If you choose a puffer jacket for your insulation, consider bringing a jacket with Omni Heat™ Infinity, especially if you'll be in the snow or extra cold temperatures. This NASA-inspired technology relies on an innovative gold liner inside the jacket that reflects your body heat back at you. It is similar to
Omni-Heat™ Reflective
, but with more surface area for the reflective foil.
Black Dot™ jackets
offer the choice of synthetic or natural down and are great options for lower-intensity hikes that involve less exertion. They do such a good job of keeping you warm that they can be too hot during high-aerobic activities, so be sure to plan accordingly.
For hikers who take the puffy jacket route, many puffers are water-resistant enough to withstand light rain and drizzle, which may be enough if you don't anticipate wind or heavy precipitation. However, if you know you'll be hiking in the rain or windy areas, you'll also want an outer shell that's wind-resistant and fully waterproof, preferably made with OutDry™ Extreme. This last layer fits over your fleece or puffer coat to provide you with rain protection.
Interchange options
provide three-in-one jackets that are great for changing cold-weather conditions. These jackets include a waterproof-breathable shell with a fleece that zips out, offering the midlayer and shell in a one-stop shop, as well as an insulated rain jacket when worn together.
By understanding how to layer properly, you'll be able to hike longer and more comfortably without worrying about what the weather will throw at you. Follow the three-layer rule and you will be prepared for anything out there.